Jamie Algatt, Principal Product Manager | RapidDeploy
Why do first responders today largely rely on the voices of emergency dispatchers, especially when they step out of their ambulance, fire engine or patrol car? In every part of our lives, we have access to real-time data at our fingertips, but once we put on our uniforms it seems like we go back in time and fly blind, depending on audio from a PSAP far removed from the action. RapidDeploy's mission is to reduce emergency response times and increase responder safety by improving situational awareness.
Today, we are proudly announcing the launch of our new native mobile applications for Android and iOS, listed on the FirstNet app store. Using RapidDeploy's new native mobile applications, First Responders dispatched by Nimbus CAD now have modern smartphone capabilities available for critical public safety use cases. This blog post outlines just a few of the many use cases that utilize native capabilities inherent to modern smartphone operating systems. Welcome to the future of public safety!
"Hey Siri, create a traffic stop"
First Responders are now empowered with the ability to create events, navigate to events and update their status without the need to take their mind off the road or their hands off the steering wheel. Modern voice control and configurable Siri shortcuts allow responders to trigger a complex chain of events by simply saying a short voice command, keeping them safe and making sure all relevant stakeholders are informed.
Get there faster
With modern smartphone location services, First Responders achieve faster responses and dispatch always knows where their assets are located. The Nimbus Mobile application also delivers the configurability for a user to select their local default routing application, such as Waze. By leveraging native, real-time traffic and routing mapping solutions, First Responders are provided with the most efficient navigation to arrive at an emergency location as quickly and safely as possible.
Collaborate in real time
The mobile apps are now available for iOS and Android, as a complement to the web-based Nimbus MDC application and Nimbus CAD. Data is exchanged in real-time across all applications, ensuring seamless communication and unprecedented situational awareness. The RapidDeploy Nimbus Mobile application delivers real-time information updates and notifications without disrupting operations and response. Delivery of actionable information, such as changing incident details and remarks is key to supporting situational awareness. RapidDeploy organizes new information delivery to First Responders to optimize response. The RapidDeploy MDC delivers seamless integration with Nimbus Mobile application to allow transportability of critical CAD information. The RapidDeploy mobile ecosystem delivers information whether a user is in their vehicle or out of their vehicle.
With security and reliability as a top priority, the new native Mobile Apps are now Listed on the FirstNet App Store. RapidDeploy had to undergo a rigorous vetting process to ensure the app's Security, Data Privacy, and Availability. FirstNet is the nationwide communications platform dedicated to America's first responders and public safety community. FirstNet is purpose-built to enable the important work performed by first responders. FirstNet offers technology, features and functionality designed to properly handle the rigorous and unique demands of first responders. With this much-needed technology upgrade, first responders can connect to the critical information they need every day and in every emergency.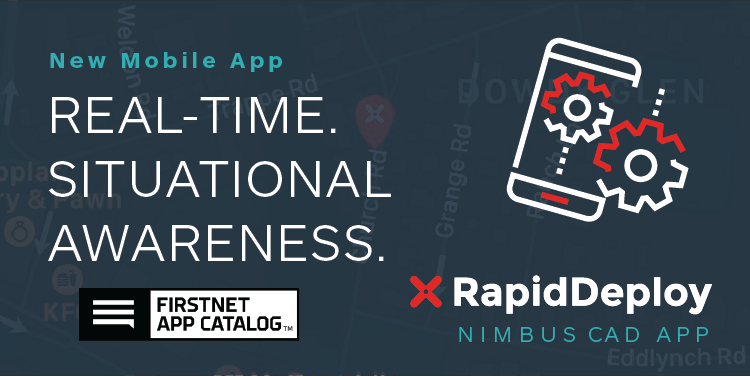 Every agency and every first responder is different, but they're alike in that every first responder should be empowered to do their job. We've embraced customer feedback to an unprecedented degree to ensure that we do not negatively impact a fast and safe response to an incident. We're excited to hear and share success stories that are born out of first responders having more situational awareness than ever before.
Learn more about the mobile app and sign up for a live demo here.